UFC 244 Results : Jorge Masvidal Defeats Nate Diaz Via 3rd Round TKO, Wins BMF Title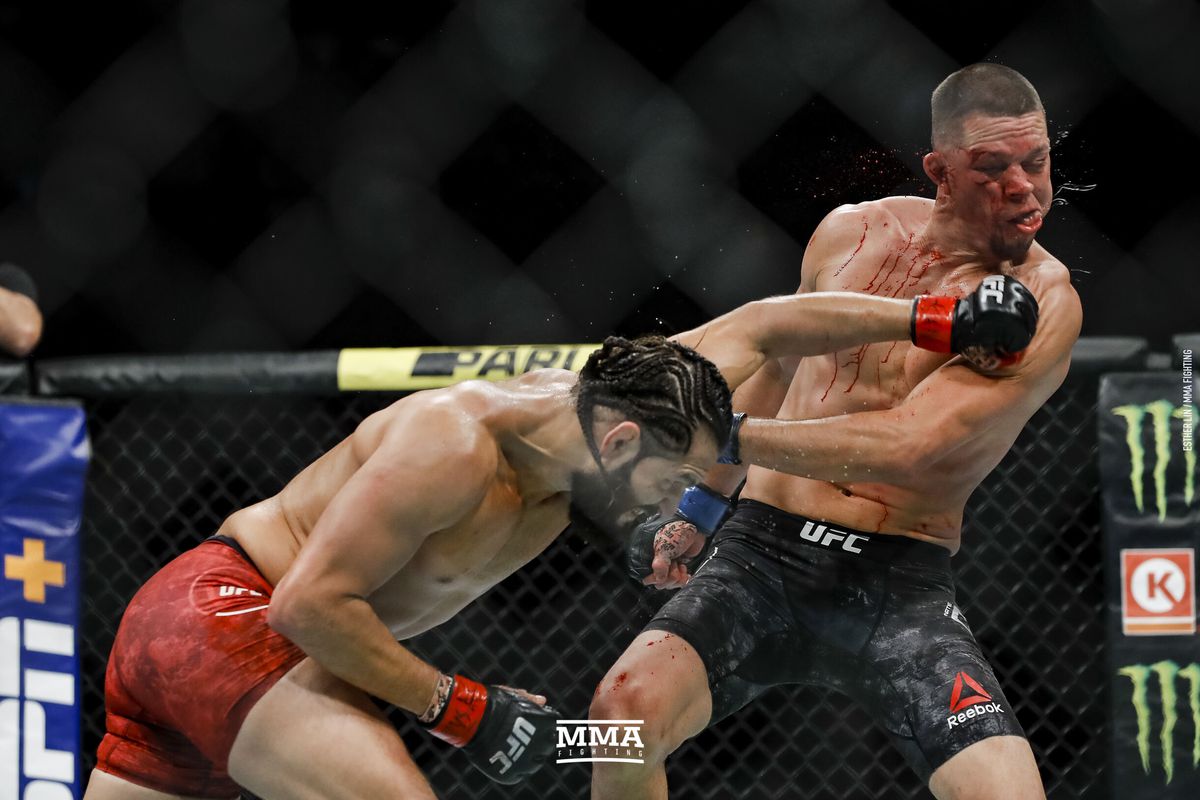 ↑ Grab this Headline Animator
A very big night it was in the UFC, as the president of the United States Of America, created time out of his busy schedule and Hollywood Star Dwayne "The Rock" Johnson but that wasn't the Main Event. Jorge Masvidal on the fateful night defeated Nate Diaz via a controversial TKO after the third round to claim the Inaugural Welterweight BMF belt on Saturday Night in front of a sold out crowd at New York's Madison Square Garden.
Masvidal (35-13 MMA, 11-6 UFC) was at his best throughout the first three rounds of the fight and Diaz (20-12 MMA, 15-10 UFC) also gave his all to the fight, delivering as advertised an action package any MMA fan will love to see. The fight however ended controversially as due to a serious cut above Diaz's eyelids, the fight was brought to an untimely end by the New York State Athletic Commission Chief Medical Officer Nitin K. Sethi.
Diaz started bleeding in the first round and the bleeding got worst, as the rounds increased and before each of the rounds, the doctor took precautionary check on the injury but this wasn't as bad as injuries Diaz has fought through in the past and that was the reason the Fans and spectators were astonished after he brought the fight to an end due to the cut.
Subscribe in a
reader
The fight was Masvidal's 18th career stoppage victory which was noted as 5.00 stoppage victory but Masvidal aired his dissatisfaction with the stoppage and made it clear to Diaz after the fight, he will love to entertain a rematch.
"For a fact, you gave me the love I'll give you the love," Masvidal told Diaz. "I don't like to leave the ring like this with my opponent still conscious. We have to run it back."
Masvidal was the aggressor from the opening bell and made his intent known by firing heavy hands with some dangerous intent and in one of those shots caught Diaz with some unexpected elbow and a kick to the head that floored Diaz, which was followed with a flurry that ended up opening a cut above his eyelid. An event that ended up the most important set of punches in the fight.
Masvidal avoided joining Diaz on the mat but preferred outworking him while standing throughout the first round. The second round was more of the same despite avoiding Diaz's tactic of turning up pressure, escaping each time He tries stalk or instigating a close quarter fight.
Diaz started showing signs, he was growing into the fight with combinations and despite also losing the the third round to Masvidal, it was his best and left the fans salivating for the remaining rounds of the fight. Only for the Doctor to the fight before the start of the fourth round. Then the WWE and Hollywood star Dwayne Johnson came in and awarded Masvidal with the Belt.
Diaz however gave his piece on his loss "I'm going back for this mother(expletive), right back," Diaz said. "Let me heal this up and go again."