UFC 221 Results, Round By Round And Video Highlights
(UFC 221)
10/2/2018
UFC 221 held in Perth Arena in the Australian city of Perth, was very trilling and all round mind blowing, having Yoel Romero KO Luke Rockhold in the main event.
This leaves us poised to bring you the big fights of the event and their round by round coverage and results.
Tai Tuivasa def. Cyril Asker via TKO
Result
: Tai Tuivasa def. Cyril Asker via TKO (strikes) – Round 1, 2:18
Conclusions
: Tai Tuivasa destroys Cyril Asker with first-round TKO
Records
:
🌐Tai Tuivasa (7-0 MMA, 2-0 UFC)
🌐 Cyril Asker (9-4 MMA, 2-3 UFC)
🌐 Division
: Heavyweight
🌐 Broadcast
: Pay-per-view
🌐 Referee
: Steve Perceval
Watch full highlights below
Round By Round Commentary
🌐 Round 1
Tuivasa paws a jab as Asker bounces on the outside. Asker with a right hand over the top, but Tuivasa counters back with a flurry of punches. Tuivasa holds the center, and he lands a right hand while moving inside. Asker throwing, but aright hand hurts him. Tuivasa teeing off. Elbows and punches. Big shots to the body, as well. Big elbows coming forward. Left hands for Tuivasa. Asker is in trouble and covering against the cage. Asker somehow still on his feet. Uppercut from Tuivasa. Another elbow lands flush Another. Asker staggers away and goes face down, and referee Steve Perceval finally calls it off.
🌐 Curtis Blaydes def. Mark Hunt
Result

:

Curtis Blaydes def. Mark Hunt




via unanimous decision (30-26, 30-26, 29-27)

Conclusion

: Curtis Blaydes dominates Mark Hunt for biggest win of career

Records

: Mark Hunt (13-12-1 MMA, 8-6-1 UFC), Curtis Blaydes (9-1 MMA, 4-1 UFC)

Division

: Heavyweight

Rankings

:

🌐 Hunt No. 10

🌐 Blaydes No. 14

🌐 Broadcast

: Pay-per-view

🌐 Referee

: John Sharp

Watch full highlights below


Round By Round Commentary 🌐 Round 1


Hunt backs to the cage and looks to study from range. Blaydes pumping a jab from range. He misses a big right. Blaydes changes levels but doesn't drive forward. He doesn't want to overcommit, of course. Left hand lands for Blaydes. Hunt with the right hand holstered. Patient work from Blaydes on the outside. He scores a few punches inside and evades the counter. Blaydes shoots from distance and does get the takedown, but Hunt easily turns and rises back to his feet. Hunt lands clean. Right hand scores. Another. How is Blaydes still surviving? Wobbled, but he drives forward with a takedown. Incredible. Looked like Blaydes was just about done, yet he's punching on the floor right now, trying to keep the fight down. Hunt stands, but Blaydes keeps his body wrapped and muscles him back to the floor. Half-guard underneath for Hunt. He's cut, and blood is running from his face on to Hunt's body. Punches coming from the top. Blaydes tries to take the back in the closing seconds. Not there. Nice work from Blaydes late, Hunt, 10-9.

🌐 Round 2

Blaydes shoots immediately to start the second. Hunt defends well against the cage. He circles away and pulls back to the center. Blaydes patient from the center. He does not want to get tagged again. Blaydes reaching with his jab from range. Hunt staying at range and waiting for the right time to counter. Blaydes not really threatening on the feet. He does land a low kick. Blaydes shoots, but Hunt defends well and pushes him away. Nice takedown for Blaydes, and Hunt nearly rolls him through, but the position is established. Half-guard for Hunt. Blaydes with short punches and elbows on top. He wants to stay busy and keep this position. Crowd boos, wanting Hunt back on his feet, but Blaydes knows he needs to stay here. Hunt trying to create some space, but Blaydes wisely staying heavy. He postures up in the final seconds with a few big shots. Hunt tries to roll but can't get to his feet. Round ends there, Blaydes, 10-9.

🌐

Round 3

Blaydes wastes no time, shooting immediately for a takedown. Hunt crawls to his feet, but Blaydes keeps the body wrapped and slams him hard to the canvas. Big move there. Mount for Blaydes. Just the start he wanted. Crowd doesn't like it, of course. Elbows and punches coming from the top. Crowd restless, wanting their hero to have a chance on the feet. Blaydes briefly isolates the arm, but he's against the cage and doesn't really have room to work. He goes back to the elbows and forearms. He's staying just busy enough. Hunt turns to his side and then his knees. He gets to a kneeling posiiton and then his feet. Blaydes on the back and wraps the body and beautifully throws Hunt to the floor. Hunt able to get to his feet, but Blaydes again too technical and is able to drag his opponent back to the floor. Very sharp. Side control for Blaydes, and he's punching away from the top. Hunt finally back to his feet with some space with a minute left, but Blaydes with yet another takedown. Hunt up, and back down. Masterful wrestling from Blaydes. final round to Blaydes, 10-8, awarding him the fight 29-27.






Yoel Romero KOs Luke Rockhold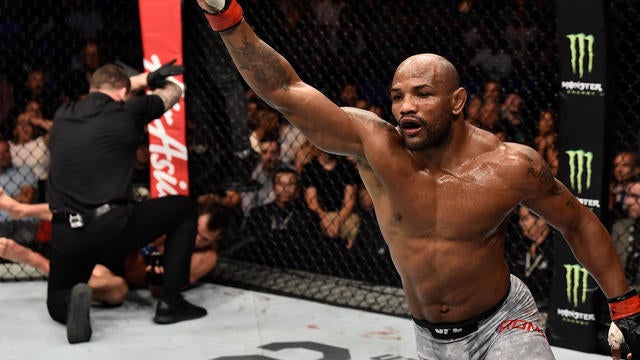 Results
Result
: Yoel Romero def. Luke Rockhold via knockout (punches) – Round 3, 1:48
CONCLUSION
: Yoel Romero KOs Luke Rockhold – but can't become interim 185 champion
Records
:
🌐 Yoel Romero (13-2 MMA, 9-1 UFC)
🌐 Luke Rockhold (16-4 MMA, 6-3 UFC)
🌐
Division
: Middleweight
Rankings
:
🌐 Rockhold No. 3
🌐 Romero No. 4
🌐
Broadcast
: Pay-per-view
🌐
Referee
: Marc Goddard
Watch full highlights below

Round By Round Commentary
🌐 Round 1
Rockhold with an early low kick. Punches traded, and Rockhold kicks the leg again. Rockhold holding the center early, and he continues to throw the low kick. Rockhold's shin cut after the checked kicks. He chops at the thigh. Romero has a high kick blocked. He waves his arms about. Rockhold with another low kick, and he pulls away from an overhand shot. Two minutes left. Low kicks traded. Rockhold short on a left hand. More low kicks from Romero, as well. Rockhold very patient on the outside. Front kick to the body. He chops the legs again. He's being very careful with Romero's power. Rockhold maintains the methodical approach. He does unleash a few quick punches at the end, and Romero fires back, as well. MMAjunkie gives the first to Rockhold, 10-9.
🌐 Round 2
Romero out quickly and lands a right hand. He moves into the clinch and delivers a few big shots to the body. Rockhold able to sneak out and reset, but not before taking some damage over the right eye. Back to the center. Rockhold misses on a high kick. Rockhold starting to let the left hand go, but Romero is covering well. Romero slips a bit on a rushing flurry but does land a left hand. Romero punches the lead leg. Rockhold with a left to the body. Still a calculated approach by both fighters. Romero misses a big uppercut. One minute left. Left hand for Rockhold. Right hand lands. Rockhold is finding his range late in the round, but he started slow. Triple jab for Rockhold. Strong finish for Rockhold, but MMAjunkie gives it to Romero, 10-9.
🌐 Round 3
Rockhold opens with the jab. He's getting a little busier with his hands. Couple of jabs end with a low kick. Romero walking forward and looking for an opportunity to explode, but Rockhold using the jab. Romero to the body. He leaps forward with a right hand. Big left hand over the top sends Rockhold to the floor, and the follow up is dead on. Brutal eft hand on the floor puts Rockhold out cold. Vicious finish.
Other Football Highlights
🌐
Leicester City 2 - 0 Liverpool Football Highlights
🌐
Schalke 04 0 - 3 Bayern Munich Football Highlights
🌐
Bayern Munich 3 - 0 Anderlecht Football Highlights (group Stage first l