Tottenham Hotspur 2 - 0 Manchester United Football

Highlights
(Premier League)
31/1/2018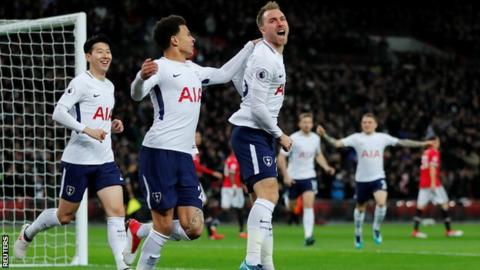 Goals ()
⚽1' Christian Eriksen 1 - 0
🌕13' Mousa Dembele
⚽28' Phil Jones (o.g.) 2 - 0
🌕38' Phil Jones
🌕73' Ashley Young
🌕85' Dele Alli
Watch full highlights below
Tottenham Hotspur Manager Mauricio Pochettino
"You can win a game if you're ready to fight," said Pochettino. "It was massive to be up early in the game."
Manchester United Manager Jose Mourinho
"The second goal mentally kills the team.
"To win matches a team needs to score goals and also defend well - on this occasion we were very bad."
Other Football Highlights
🌐
Leicester City 2 - 0 Liverpool Football Highlights
🌐
Schalke 04 0 - 3 Bayern Munich Football Highlights
🌐
Bayern Munich 3 - 0 Anderlecht Football Highlights (group Stage first l