Manchester United 2-0 Huddersfield Football

Highlights
(Premier League)
3/2/2018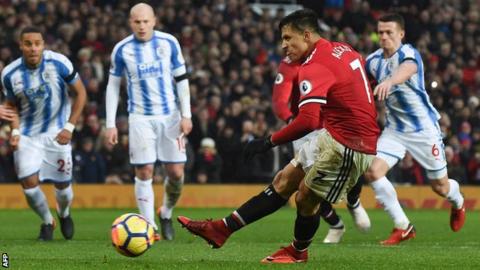 Goals ()
🌕23' Philip Billing
🌕27' Juan Mata
🌕45' Alexis Sanchez
🌕48' Tom Smith
⚽55' Romelu Lukaku 1 - 0
🌕59' Jonathan Hogg
🌕64' Michael Hefele
🌐68' Alexis Sanchez (pen.) 1 - 0
⚽68' Alexis Sanchez 2 - 0
Watch full highlights below
🌐 Manchester United manager Jose Mourinho
"We always had control of the game, but at half-time it was 0-0. I guess we had around 85% possession in the first half but it was not enough. We kept doing the same in the second and even at 1-0 we were totally in control. Our defensive line was far from the danger areas.
"We had to be patient but had to keep the intensity high and the pressure. We had to break down the Berlin Wall organised so well by David Wagner.
"It was nice for Alexis Sanchez to win a match, the first at home. Nice for him to play well and show the desire and happiness in playing football. That is most important. It was not the goal of his dreams, but it is a goal.
"It is important for the bad reasons [Munich air disaster] but the memories stay. The club looks at the date and event as a key moment in the history of the club. It is nice to do that playing at home and winning."
🌐 Huddersfield Town manager David Wagner
"It was a fair result, the better team won. We made it uncomfortable for them, we wanted to work and fight and stay together, that is what the players have done for a long period, but they used one of their chances and it was a deserved result.
"I have seen what I wanted to see, we will not have much of the ball and not create many chances, so I can live with what I have seen with the commitment and effort from the players. If we play like this, then I am sure we will see the results."
Other Football Highlights
🌐
Leicester City 2 - 0 Liverpool Football Highlights
🌐
Schalke 04 0 - 3 Bayern Munich Football Highlights
🌐
Bayern Munich 3 - 0 Anderlecht Football Highlights (group Stage first l