Levante 2 - 2 Real Madrid Football

Highlights
(La Liga)
3/2/2018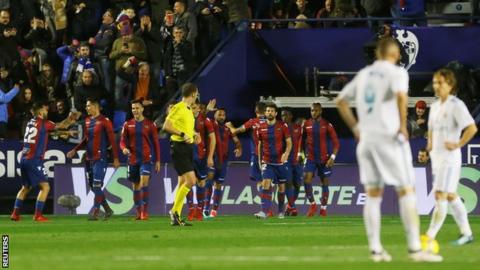 Goals ()
⚽11' 0 - 1 Sergio Ramos
🌕13' Cheick Doukoure
🌕21' Sergio Ramos
🌕26' Ivi Lopez
⚽42' Emmanuel Boateng 1 - 1
⚽81' 1 - 2 Isco
🌕84' Marco Asensio
🌕88' Coke
⚽89' Giampaolo Pazzini 2 - 2
🌕90' Raphael Varane
Watch full highlights below
🌐 Real Madrid Boss Zinedine Zidane
"This year for us is a complicated year because we haven't put six good results together in a row," Zidane said.
"We are disgusted with the result and the performance of the team.
"The game was controlled, doing the most difficult things, but we didn't know how to score. Then there are two errors we make in the two goals."
Other Football Highlights
🌐
Leicester City 2 - 0 Liverpool Football Highlights
🌐
Schalke 04 0 - 3 Bayern Munich Football Highlights
🌐
Bayern Munich 3 - 0 Anderlecht Football Highlights (group Stage first l