Arsenal 5-1 Everton Football

Highlights
(Premier League)
3/2/2018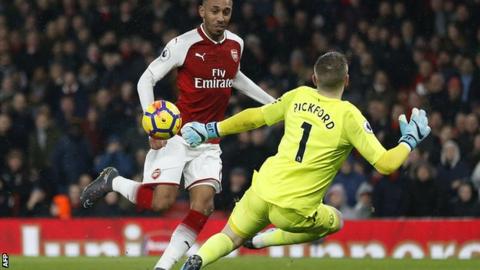 Goals ()
⚽6' Aaron Ramsey 1 - 0
⚽14' Laurent Koscielny 2 - 0
⚽19' Aaron Ramsey 3 - 0
🌕24' Laurent Koscielny
⚽37' Pierre-Emerick Auba... 4 - 0
🌕50' Shkodran Mustafi
64' 4 - 1 Dominic Calvert-Lewin⚽
⚽74' Aaron Ramsey 5 - 1
Watch full highlights below
🌐 Arsenal Manager Arsene Wenger
""Our challenge is to find a balance,"
Wenger said. "We're a very offensive team but need to find a balance between attacking and defending. That will be our challenge until the end of the season."
🌐 Everton Manager Sam Allardyce
"
I have a lot of trouble with the players taking on to the pitch what we asked them to do," Allardyce said.
Describing the display as a "disaster", he added: "I'm not frustrated. I'm angry - very angry - at the players performing to that level. It's unacceptable.
"The players are showing so much inconsistency that I face an uphill battle trying to get them to play at their best week in, week out. It was a pathetic first-half performance."
"You set out to block the areas Arsenal like to play in. We had the same game plan that Swansea had on Tuesday.
"We studied how Swansea played, how defensively sound they were and how they limited Arsenal to very few chances.
"Swansea only had 30% possession but created chances, but I may as well have been talking in a foreign language. We didn't implement my plans either defensively or offensively and the game was dead and buried.
"It doesn't matter what system I pick - it's about players playing to their best. You can show them but it's up to the players."
Other Football Highlights
🌐
Leicester City 2 - 0 Liverpool Football Highlights
🌐
Schalke 04 0 - 3 Bayern Munich Football Highlights
🌐
Bayern Munich 3 - 0 Anderlecht Football Highlights (group Stage first l