Chelsea 0-0 Arsenal Football

Highlights
(EFL CUP Semi Final )

11/1/2018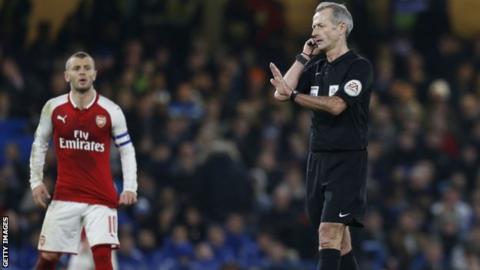 Goals (2-1)
🌕51' Granit Xhaka
🌕79' N'Golo Kante
🌕86' Mohamed Elneny
Watch full highlights below
Post Match Comments
Antonio Conte
"I am very positive about VAR because when there is a big doubt during the game it is right the referee and the other referee watch the video to check and make the best decision," Conte said.
"I think everyone wants less mistakes during the game and I think this could be very positive for sure."
"You have to improve and understand that when you start to use VAR you then need to add more extra time," Conte said. "When there are doubts about two situations in the game then the extra time is seven, eight or nine minutes."
"We are about 50/50 because don't forget not to concede a goal at home could be very important for the second leg," Conte said.
"At the same time we know that to play at Emirates Stadium is not easy but we are ready."
Arsene Wenger
"It was a good performance," Gunners manager Arsene Wenger said.
"We were well organised. It was a good draw and we have to finish the job."
Wenger added: "It was interesting. It was a cause of anxiety as it took a bit of time to make the second decision with Welbeck and Fabregas, but overall it worked well.
"But between the penalty action or penalty not action, with the time taken it would have been strange to come back to the penalty."
Other Football Highlights
🌐
Leicester City 2 - 0 Liverpool Football Highlights
🌐
Schalke 04 0 - 3 Bayern Munich Football Highlights
🌐
Bayern Munich 3 - 0 Anderlecht Football Highlights (group Stage first l