UFC Welterweight Champion To Make Return Early 2018 And RDA Not Considered Top
24/12/2017
UFC Welterweight Champion Tyron Woodley has spent some time out due to a successfully undergone surgery to repair a bum shoulder but the Champion definitely needed the break after going through four title fights in the span of 12 months.
"I had orthoscopic surgery on my right shoulder," Woodley said in an interview with TMZ Sports . "My shoulder was beat up a lot more than what they thought. I had bone spurs in there. They had to tack down my labrum and clean out some other stuff. I'm going to come back as the bionic man."
Adding some praise to the specialist doctor that successfully conducted the surgery he said "The reason I came (to South Florida) is Dr. (James) Andrews,"

"He's very, very famous for the shoulder surgery, and also the Tommy John surgery to the elbow. He's supposed to be the No. 1 surgeon in the country for these types of injuries. I came out here for that purpose alone.
"With the stem cell and (platelet rich plasma injections), the new technology and science, I'm going to be fighting in the first quarter of next year. In two months, I'll be punching something."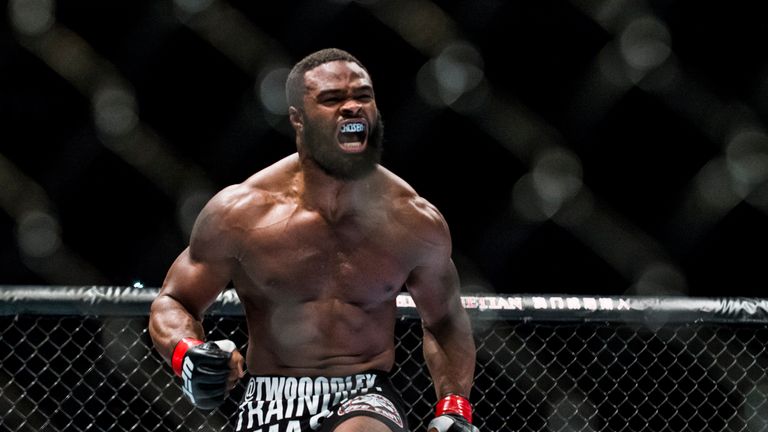 Woodley's return would definitely make sense if he faces a strong competition, which many will believe makes more sense to be Rafael Dos Anjos but the welterweight champion doesn't see him in the line to face him.
"I wasn't too impressed with him, to be honest," Woodley said. "I wasn't too impressed with the performance. Just because people are punching and swinging, if you're punching and swinging and you're missing or you're hitting gloves and elbows, that ain't precision to me. When you're landing good powerful shots and making it count, and I wasn't really thrilled with the IQ of both guys.
"Would I be open to fighting him? Yeah. But is he the top fighter on my list? No."
Click Here For More MMA News