John Terry Believes Mourinho 2004/05 Team Will Defeat Guardiola's City
19/12/2017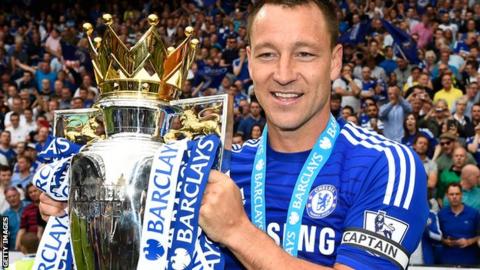 Chelsea legend has revealed a game plan which he believes Jose Mourinho's 2004/05 or 2005/06 teams could use in defeating the present Pep Guardiola's Manchester City.
Pep Guardiola has gone 16 wins, win which include Manchester United, Tottenham Hotspur in their last four Premier League outings.
"I would say 2004/05 or 2005/06, those first two sides when Mourinho arrived at the club," Terry said.
He insisted he was sure the first team developed by Mourinho in his first season at Chelsea would do the job.
"We were never afraid to say: 'They'll have more possession than us,' but we were set, comfortable.
"The full-backs [William Gallas and Paulo Ferreira] would always go up the pitch, and Makelele would always sit, which was great for us centre-backs.
"But we had great legs, great power, and we had the big man up front. Drogba made such a difference. We had that ball into Didier, and he could hold it up, with the runners off him Duff, Arjen Robben and Lampard would be box-to-box game after game."
Chelsea will face Bournemouth in the Quarter final of the EFL CUP before returning to Premier League action away against Everton, as they try to keep up the pace with City and United presently Ahead of them.