Thibaut Courtois - Chelsea Must Defeat Manchester United To Remain On Top
1/11/2017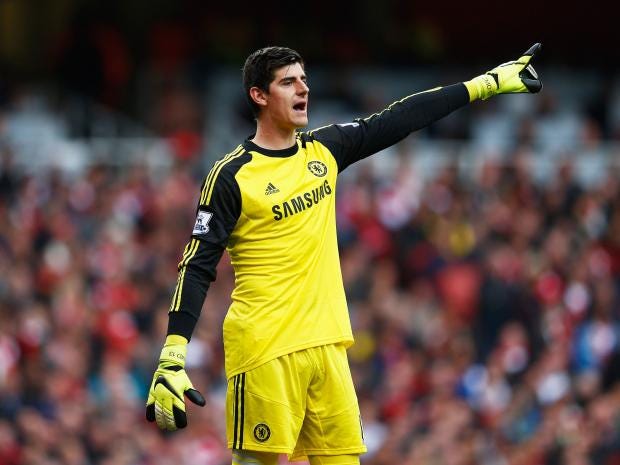 Chelsea Goalie Thibaut Courtois after their three Nil Champions League Loss to Roma in Rome, said he sees Manchester united as a most win game for the London side.
The Chelsea number one conceded three times on Tuesday, as Chelsea's defense looked more loosed than any of this previous games this season, which prompted the Clubs Manager to say they needed to rediscover their "hunger" if they want to compete for major trophies this season.
Also Read
Chelsea will still be without, N'Golo Kante for the Manchester United game in the weekend, as the Frenchman gave updates that he might not be fully fit for the game against United While Courtois said Chelsea doesn't need to make anymore defensive errors.
"This is a must-win game," he said. "Manchester City are already nine points ahead of us, Manchester United four and Tottenham one.
"We must win games like these to remain at the top and close to the other [contenders]. We will try to get the three points and will give our lives for it on Sunday."
He also went on to analyze the issues in the Chelsea defense and also saying, the recent issues are more due to N'Golo Kante's absence in the squad.
"I think we have to start again, maybe have the balance like last season, try to defend first and then look to score goals," Courtois added.
"This season we are conceding more chances than we did last year. We have to try to get that extra step in, that extra percent to stop actions, not be 90 percent. Maybe with a lot of games, sometimes you maybe go a bit less.
"Obviously it is different to last season. Injuries have been coming and not at a good time. We know how important N'Golo is for us, he is the guy that brings a lot of balance into the team. But we can't push him to play if he doesn't feel ready.
"Danny [Drinkwater] was also out for a long time as well. It means Tiemoue Bakayoko and Cesc Fabregas have played a lot of games in midfield and obviously that goes into their legs and it is harder for them to keep up the pressure, especially against the midfield three like Roma had."