Jerrell Miller Stops Mariusz Wach in the 9th
12/11/2017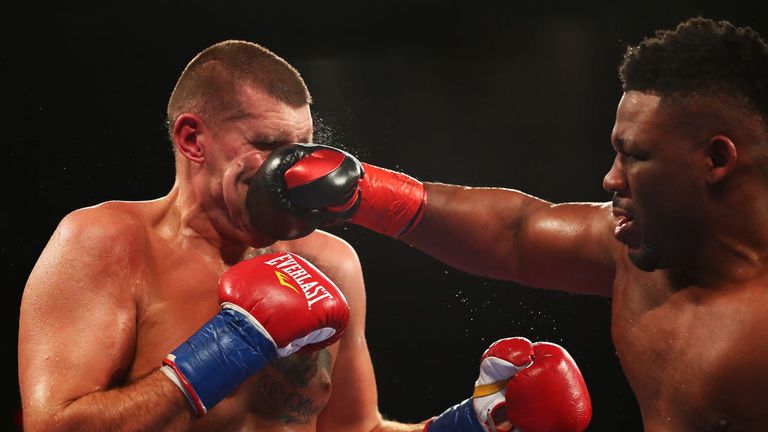 Jerrell Miller is now looking forward to a heavyweight title Fight after stopping Mariusz Wach, in the 9th round to stay undefeated.
Miller (20-0-1, 18 KOs) was very active throughout the fight and better than his huge opponent Mariusz Wach, 37 (33-3, 17 KOs), though very uninspiring, as he never dropped Wach, as this was to serve as a statement to the big knock out artists Anthony Joshua and Deontay Wilder.
The NYSAC ring side doctor ordered the fight to be stopped just 1:02 into the ninth round, in a fight televised by HBO from Nassau Veterans Memorial Coliseum and Wach was still active when the fight was stopped by the referee.
"I was all right," said Miller, who came in 16 pounds lighter for this fight than for his TKO win over Gerald Washington on July 29. "I was a little achy because I sprained my elbow in camp. I could feel the difference without having the extra weight on. I didn't like it as much because I didn't have as much power. I prefer being a little bigger."
"I was walking him down," Miller said. "I was getting his timing down. I got adjusted to his height and I was fighting him to be ready for the full 12 rounds."
Miller landed some good shots in the early rounds, which includes a solid overhand right late in the second round which Wach countered with a left hand and more followed, a right uppercut in the fourth round which also was accompanied by Wach's counter.
But after the sixth round Wach appeared tired and from then on Miller dominated but could not get any knock down, Wach took it well then continued his then sloppy game till the 9th well the game was stopped.