Jaime McDonnell vs. Liborio Solis Ends With No Decision
4/11/2017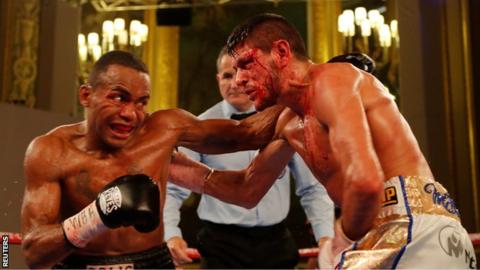 Jaime McDonnell retained his WBA World Bantamweight title after a three rounds, No-Decision Fight against Liborio Solis in their rematch at the Casino de Monte Carlos Salle Medcin, in Monaco, Monte Carlo.
Jaime McDonnell (29-2-1, 13 KOs), who had been the less active among the two, looked no match for the 35 year old Liborio Solis (25-5-1, 11 KOs), and appeared to be lose all three rounds before a clash of heads prompted the ring side doctor to stop the Bout.
The fight was stopped at exactly 2:45 of round 3 due to the stream of blood leaking from his left eye and more so he got lucky as he was heading towards a failed title defence. The hard hitting Solis gave McDonnell a pounding on the inside in the 3rd round and McDonnell looking slow could not reciprocate.
Solis lost via a controversial decision to McDonnell last year and had to wait this long for a rematch. It really got to him, as he almost got to tears after the match and the way it all played out.
The Number 3 WBA ranked Solis would really love a third fight but this might not be McDonnell's plan, as he was totally dominated by him and might even think of moving on from the fight as he isn't a mandatory challenger.
The WBA should also look at its planning, rules and regulations, as McDonnell took too long to defend his title despite having been ordered by the WBA as it might not be good for the division and Fight fans.