David Moyes Ends First West Ham Game With A Loss
19/11/2017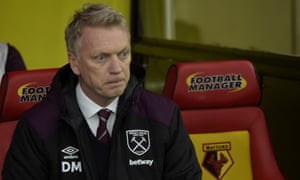 West Ham United started out their time in David Moyes reign with a two Nil defeat to Watford away, which the new boss criticized after the game and expressed his disappointment in the players.
Watford, had a good in each half of the game,goals from Will Hughes and Richarlison ensured West Ham remained 18th on the Premier League table.
The Hammers got a number of saves kept out by Watford keeper Heurelho Gomes but Watford had the better game and crowned it all up with a deserving win.
After the game David Moyes said "the better team won."
He said: "I didn't enjoy the performance in the end. Overall, I didn't think it was good enough. It'll not be good enough; it needs to get much better."
The Hammers didn't just have a loss to worry about, the also had their fans, who protested against the club's owners David Gold and David Sullivan and vice-chairman Baroness Brady and singling out striker Andy Carroll for criticism.
"I don't know all the history and the reasons for it and I am really thankful because they were supportive of me," Moyes said.
"But I have to say also that we need a united club, and I know that's hard to say and they have grievances. Those supporters will know much better than me about the past."
On Carroll, Moyes said: "I didn't know there was any heat before. I didn't. I was surprised because, to be fair, Andy has done everything in training, tried to be correct in everything he's done.
"We need to find a way to make sure we get the club together. It needs to be united. I'm probably the wrong man to ask that question at the moment.
"I can only try and get wins which will hopefully make the supporters feel a bit better about the players and the team."
"I thought it was a big job," he added. "There were some players with big reputations who disappointed me a little bit and I thought: 'You'll show me more and you'll show me a little bit if you play in the team regularly.'
"But today was really the first time I had a chance to see them play. They didn't. They need to show that, if this is their reputation, why they have got it."