Sergio Aguero To Spend Six Weeks On Sidelines
3/10/2017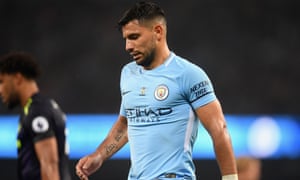 Manchester City striker Sergio Aguero will be out for six weeks due to a broken rip he incurred in a Car Crash on Wednesday last week, an Argentina team doctor confirms.
Also Read
Sergio Aguero was in Amsterdam for a musical concert on his day off, where his taxi ran into a pole there he suffered the injury missed the win against Chelsea and is will miss at least six more matches before recovery.
Dr Donato Villani, an Argentina team doctor said Aguero will stay at least six more weeks on the Sidelines..
"He is feeling very bad emotionally because he really wanted to come and play [for the national side], but this incident has ruled him out of both games. Villain said in an interview with TyC Sports
"He is going to be out for a month-and-a-half - minimum. He is unable to leave his house, or get in or out of the car. He was feeling very bad because he wanted to be here."
Sergio Aguero had started the season well scoring eight goals in seven games and stands one goal short of equaling the club goal scoring record of 177 which was set by Eric Brook in 1939.
Aguero will have to wait for more weeks to break that the club goal scoring record and if he spending six weeks, he will miss City's home and away game against Napoli and also against Arsenal