Roger Federer Defeats Rafael Nadal, Wins The Shanghai Masters
15/10/2017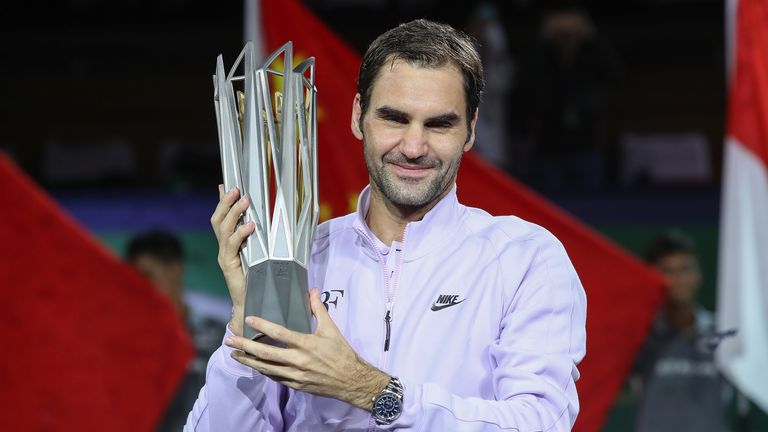 Roger Federer won the Shanghai Masters and his 27th Masters 1000 title, defeating Rafael Nadal in the final 6-4, 6-3 in an hour and 12 minutes, thereby maintaining his dominance over Nadal in their age long rivalry.
Rafael Nadal went into the final with 16 games unbeaten and was looking to increase his winning streak but Federer was out for his sixth title of the season and could end up topping the rankings if form continues till the season ends.
Rafael Nadal has lost to Federer four times now this season ( Australian Open, Indian Wells, Miami and now Shanghai) , despite topping Federer in the Head to head 23-14, which now extends the time for him to win his first Shanghai title to unknown.
He failed to hold down Federer and couldn't even get a break point against Federer but to some extent Federer seem very tough to bear this season, having only lost four times throughout the season.
Federer said after the game "I played a great match today with hardly any mistakes,". "It was very clear for me how I had to play and I was able to do it for the one hour and 12 minutes that I was out there.
"I started perfectly and kept the pressure on before creating more opportunities on the return, stayed on the offensive, and then also pull back at the right times to make sure Rafa could make some errors on his own and that is exactly what happened."
"I am actually surprised that I have won here - with all that has happened since Montreal with my back - it is just nice to see that I am back again.
"London is my priority now and I really want to win the World Tour Finals. I am very excited to have had the year that I have had and everything that comes from here is a bonus.
"Finishing the year as world number one is a long shot, and I don't think it will happen but if I play like this, who knows? Maybe I will get close again."