Police Department Retweets An Illegal Joshua-Takam And Porn Link
30/10/2017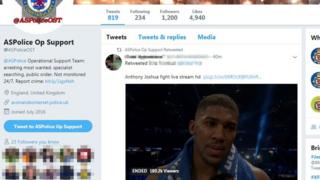 Avon and Somerset Police's Operational Support Team might have wanted to help the people get a Streaming link for the Joshua-Takam fight but unfortunately turns out, they needed to send in some Form of apology after rendering the help.
The police department retweeted a "spam link" on the live streaming app Periscope for the Joshua-Takam fight through their Twitter page and it turns out it wasn't only illegal but also showed Pornography in between the fights.
The police department spokes person said it was a human error and that precautions will be eaten on that regards to hinder its reoccurring.
The police sent in a legal apology through a statement : "We are aware that last night a spam link, containing inappropriate content, was accidentally retweeted on one of our official A&S Police Twitter accounts.
"Unfortunately, this was due to human error and the account user was unaware that it had happened.
"The post containing the offending link was removed within an hour, as soon as we became aware of the matter.
"We would like to thank those who brought it to our attention and we apologise for any offence that may have been caused through the sharing of this content."
Anthony Joshua won the Bout in the 10th round, as the referee jumped in to stop Joshua, as he kept unloading huge shot at Takem, who wasn't replying.