Sloane Stephens Defeats Madison Keys To Clinch The US Open Title
10/9/2017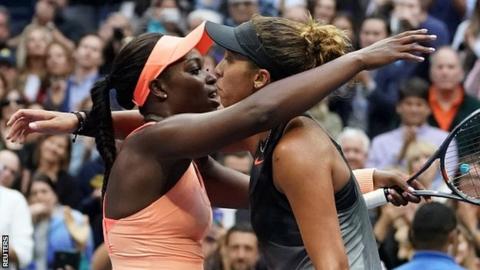 Sloane Stephens, who now joins 2009 champion Kim Clijsters as the only unseeded women's champions in the Open era was ranked 957 in the world before her first grand Slam win and will now be moving up to No 17.
The 24 year old Sloane had to face Keys strong defensive skills and had to break her serve twice to get the first set 6-3 then completed the victory with a flawless show against her 15th seed opponent.
She couldn't help but show how happy it was for her "It's incredible," said Stephens. "If someone told me when I had surgery that I would win the US Open, it's impossible I would say. Coming back, just being able to keep it all together, this journey's been incredible and I wouldn't change it for the world.
"I should just retire now. I told Maddie I'm never going to top this. Things just have to come together and the last five or six weeks they really have.
"I just have to say thanks to my team because in the toughest times we stuck together. This one's for all of us."
Madison Keys could only hold back her tears which got increasingly noticeable in her speech Keys fought back tears as she said: "Sloane is truly one of my favourite people. To play her was really special.
"Obviously I didn't play my best tennis and was disappointed but Sloane being the great friend she is was very supportive and if there's someone I had to lose to today, I'm glad it's her."