Rafael Nadal Wins The 2017 US Open, His Third
11/9/2017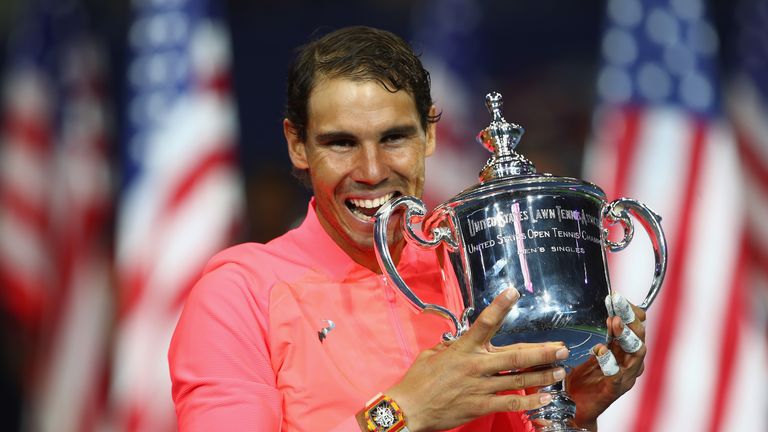 Rafael Nadal won his third US Open title, which is is 16th grand Slam title winning all three sets against Kevin Anderson (6-3 6-3 6-4) on Arthur Ashe Stadium.
He made an easy work of the south African and World No 32 Anderson, who had planned to become the lowest ranked finalist to win the prestigious grand Slam title since Andre Agassi in 1994.



Nadal dominated the game throughout finish his Victory in two hours and 27 minutes , losing only 15 points and facing no break point in his third Grand Slam Final of the year and no his second win.
Rafael Nadal has won four trophies this year and since his last victory here in 2014 he has made eight finals in 34 tournaments.
"Of course it's a very special two weeks for me," said Nadal. "It's unbelievable what happened this year after a couple of years with some troubles, injuries, moments playing not good.
"Since the beginning of the year it has been very emotional, and to close the Grand Slam year by winning in New York, I just can say thank you to life for that opportunity and thank you to my team and my family and everybody."
Anderson couldn't help but congratulate Nadal for the win "I really want to congratulate Rafa," said runner-up Anderson. "I know we're the same age but I feel like I've been watching you my whole life. You've been an idol of mine. It's tough to play you but you're one of the greatest ambassadors for our sport.
"It's been an amazing two weeks. Last year was difficult, it's tough to be injured and the competition is so strong so to come back and make my first final, it's been a really special two weeks. This isn't the result I wanted but I'll keep fighting and I'll be back."