Eden Hazard Has A Big Opportunity To Be World Best - Antonio Conte
30/9/2017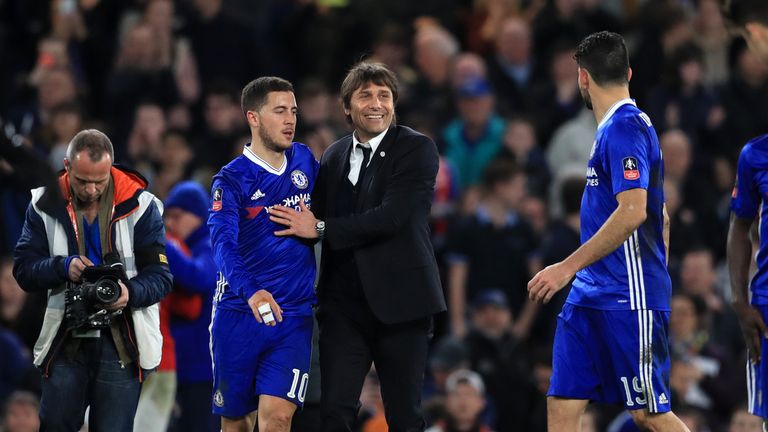 Chelsea Boss believes that Eden Hazard could be among the best players in the World, by that I Mean Ronaldo and Messi Levels a day according to him this season places the Belgian with a "big opportunity" to reach that height.
Chelsea will be handing the Belgian his first Premier League start of the season after his spectacular display against Atletico Madrid on Wednesday.
"Eden for sure is a top player," Conte said "I think in this season he has a big opportunity because, this season, we can play in the Champions League.
"I think the Champions League, together with the Premier League, is important for a player to show you are a top player and can compete to be the best.
"Now I'm pleased because, after a bad injury, now he's fit. He's in good form. His season is starting. I think this season started for him with a big game against Atletico Madrid, and now he has to show that he deserves to stay at the top with the best."
He believes that there is a kind of determination lacking in Hazard which the five and four time Ballon D'or winners posses.
"I'm seeing great determination [from him], above all when he started to train again with us after a bad injury, after a surgery," Conte added. "He understood that he needed to work very strong to recover very well.

"Also because we have good competition in our squad, with Pedro and Willian and Cesc [Fabregas when he] is playing as a No. 10. I think this good competition is very important also, for him.
"He has a style to improve in this specific situation. I think that, sometimes, Eden is ... If he scores one goal, he's happy and then, if there is another situation, he prefers to make an assist rather than scoring twice.
"I see, for Ronaldo, that if he scores once he wants two, three, four. It's the same for Messi. Yes, he can improve."
But He also believes that if Hazard is to play the way those great players do, he will be less of a team player, being rather selfish than now.
"I don't think 'selfish' is the right word," he insisted. "I don't like selfish players, honestly. I like players who are used to thinking about the team. Used to thinking about 'us' not 'me.'
"Eden is not selfish. He's a player who loves to play football and enjoys playing football. I like this behaviour, his attitude. But, for sure, I like to repeat to him that in every game he must be decisive.
"I ask this of him because a player with his talent, it's important as a coach to ask him to be decisive every game. If God gives you this talent, you must exploit this talent.
"My task is sometimes to try and push him to be decisive in every moment, in every game, and also his teammates wait for this."