Anthony Joshua Facing Kubrat Pulev At The Wrong Time - Kalle Sauerland
12/9/2017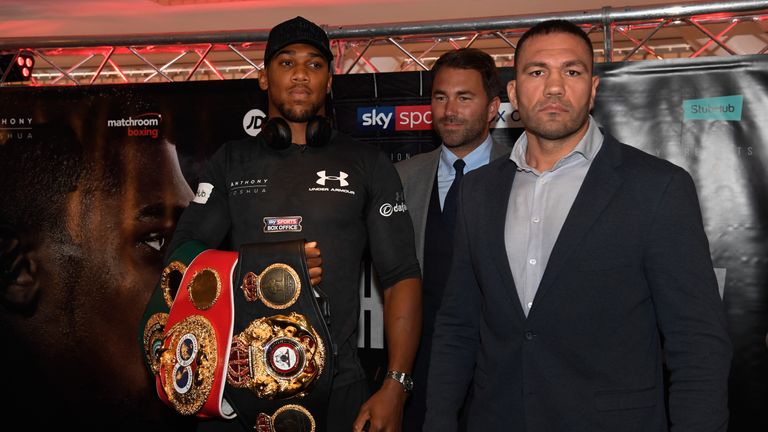 Anthony Joshua has admitted he is still learning on his boxing skills and this is seen as a weakness in the sight of Kubrat Pulev's promoter Kalle Sauerland.
Anthony Joshua had sent a warning to Kubrat Pulev and has even made mention of hunting for his soul, but the Bulgarian's promoter pointed out that Pulev has brought down bigger and more dangerous opponents in his career.
"Look at the people he has defeated - [Alexander] Dimitrenko, Tony Thompson, [Alexander] Ustinov, all guys who are at the peak of their careers when he fought them," Sauerland told SkySports.
"He has fought big guys before, beaten them before, and has got a huge pedigree. He started boxing at 12.
"Anthony Joshua, great champion, but as he says himself [he's] learning on the job. You don't want to face a guy like Kubrat Pulev at that time."
It was clear that Anthony Joshua, made many mistakes against retired legend Wladimir Klitchko in their May fight and believes that he will be severely punished if he repeats those against Pulev.
"Anthony's strengths - his speed, his power, his youth, his athleticism, I think they are all there to see," said Sauerland.
"But the weaknesses are also there to see. He's open for a punch, Dillian Whyte showed that as well, and Klitschko obviously showed that.
"He seems to still have that ring inexperience about him, outpunched himself in the fifth round in the Klitschko fight, was quite open to see.
"He [Pulev] will work on those things, putting him into situations where maybe that experience is a deciding factor. One thing for sure, if Pulev gets into the situation that Klitschko got in, there's only one winner."
Anthony Joshua will be defending his WBA Super and IBF Heavyweight Titles against IBF Mandatory challenger Kubrat Pulev on the 28th of October at the Principality Stadium.